So today I sat the AWS Cloud Practitioner Certification Exam and passed! This is my second certification exam I have sat after the Azure Fundamentals one I sat last year.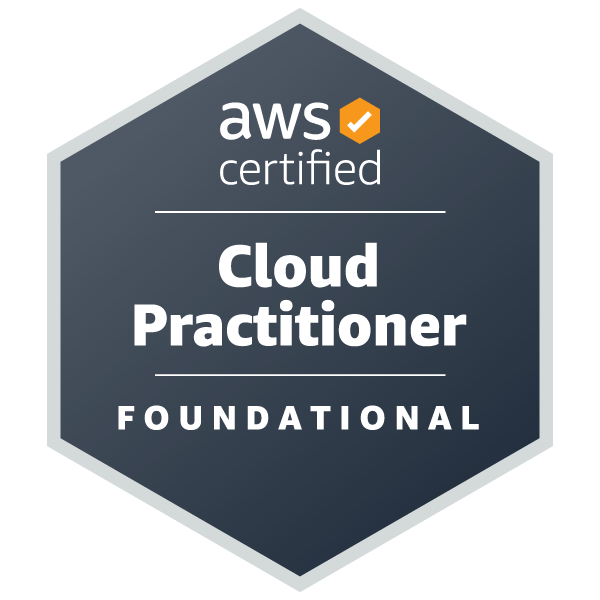 This time was different than the Azure one. Colleagues at work encouraged me to look into doing this particular exam and my employer is going to cover the cost of the exam itself. Last time I did the exam in my own time and didn't really discuss it with anyone from work.
The other difference was this time I went to a testing centre. The centre was a 5 minute walk from the office. So I decided to work from the office today and 20 minutes before the exam started I walked to the centre. I signed a couple of bits of paper, had my photo taken, had my passport and driving license laughed at, put my belongings in a locker and I was free to start the exam. No worrying about internet connectivity or kids making noise outside my room, or the endless photos at the prep stage of an exam from home. I think I prefer the exam centre experience.
The other difference was the first exam was Azure, this one was AWS. Both exams cover similar concepts, they are both introductions to Cloud Computing. It's ten months since I did the Azure one, however they both had multiple choice questions and gave you the results at the end. I feel overly familir with Azure, while I don't feel that was with AWS yet. A lot of questions relied on you knowing what AWS services are called. eg AWS Pipeline, AWS CodeStar, AWS CodeBuild, Amazon CodeGuru are all AWS services and are easily mixed up, especially as I have only used a few AWS services, while I have used a lot more of the Azure ones.
My memory is the Azure gave you a breakdown of your score at the end, while I am still waiting for that from todays exam. This difference may of course be due to it being in a testing centre.
I still prefer Azure to AWS, however today has proven that I can learn AWS stuff as well. For my next exam I want to get more hands on with my learning, as most of the services I have learnt about so far I haven't seen in action.